Presents
GABBY
CH Wonderland's Muttering Fool
Sire: JBGS Three Sheets To The Wind
Dam: Int Ch Ag-Golden Age Alicia in Wonderland
Whelped: 9/17/08
Eye cert & hips info
Gabby had 14 Points with a both Majors 4 Point and a 3 Point by her 2nd Birthday
in only 3 months of showing all over the country in heavy competition.
1st day back with Team Myers after in season she completes her Championship for her final point . (This Girl can Move)

NEW CHAMPION Thank you Judge Joe Purkhiser
BELOW
FORT DETROIT GOLDEN RETRIEVER CLUB SPECIALTY WINNERS BITCH (Supported Entry) AND MID FLORIDA GOLDEN RETRIEVER CLUB SPECIALTY ClASS WINNER MFGRC SWEEPS WINNER ( VERY LARGE CLASSES) INDEPENDANT SPECIALTY"S

Above Fort Detroit Golden Retriever Club Specialty Supported Entry Major Win Judge Eugene Blake a very proud win with some heavy competition ..Michigan.

Gabby Owner Breeder owner handled 1st in large sweeps class MFGRC Judge Ann Greenbank

Above Gabby Best of Breed Puppy and Group 2nd Judge Pat Trotter Owner Breeder Handled Florida

Gabby Best Of Winners from the Bred By her first points Thank you Judge Pat Trotter just 16 months old. South Carolina

Gabby goes on to a BBE Group 1st thank you Judge Gerard Penta 16 months old. South Carolina

Above ( Gabby) Wonderland's Muttering Fool wins Winners Bitch Under Judge Maxine Beam in Mississippi

Above( Gabby) Wonderlands Muttering fool WB under Judge Eleanor Lee Brown Mobile Kennel Club Alabama

Above Gabby Wonderlands Muttering Fool Best of Winner and Best of Opposite sex Judge Patrica Gellerman In New York

Above Gabby winners Bitch for a 4 point major in the Virginia very competetive cluster 35 bitches defeated with heavy competition under Judge Frank Washabough expertly handled by Jane Myers
Below Gabby Wins BOS under Judge Carole Beattie 7/11/10 Expertly handled by Greg Myers
Below Gabby BW/OS under Judge Robert L. Boothe in Rollo Missouri first time in the Open bitch Class 20 months old

Below Jane Myers and Gabby at MFGRC Specialty looking Spiffy ..


Above Gabby at MFGRC Specialty where she won her Huge American Bred bitch class Under Breeder Judge Helan Dorrance

Gabby Above Winning 1st place her huge american bred bitch class and leading the group at the MFGRC Specialty her correct structure and movemnet cannot be denied. Gabby also at Sandlapper Golden Retriever Specialty placed 3rd open bitch out of 32 bitches in her class at 21 months old ..Gabby has Multiple points from allbreed shows at 16 months old.

Below Gabby and Jane Myers on the Go Around showing her beautiful reach and movemnet


BEAUTIFUL SIDE GAIT 9 months above she is extremly well balanced her sidegait is a reflection of that .
Best Puppy Judge Patricia Trotter 7 months old Gabby went on to a Sporting Puppy Group 2nd under Judge Dr Benard McGivern Jr.


Best Bred By 6 month first time in Ring Judge Terry Dieptro

Above Bred By Group 3rd Breeder Judge Greg Myers 6 months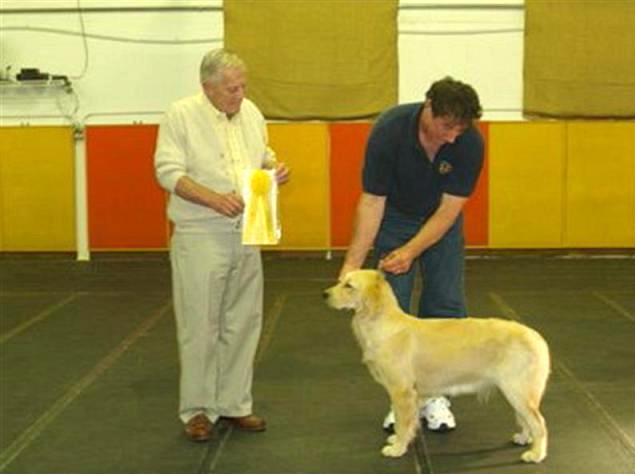 Above vern wins 3rd Best Handler Rossette at George Alston Seminar with 12 month old Gabby :)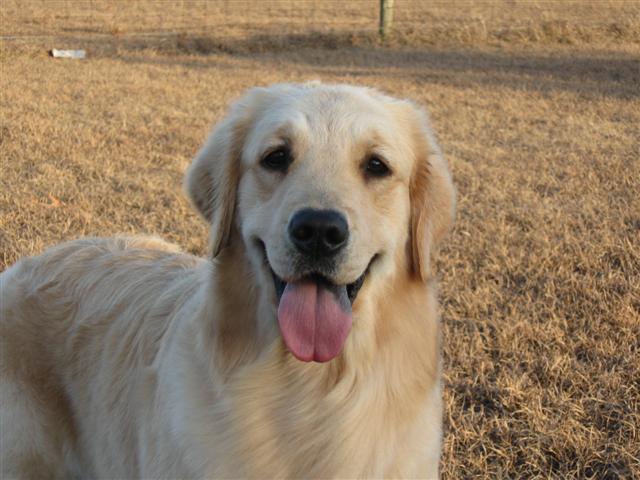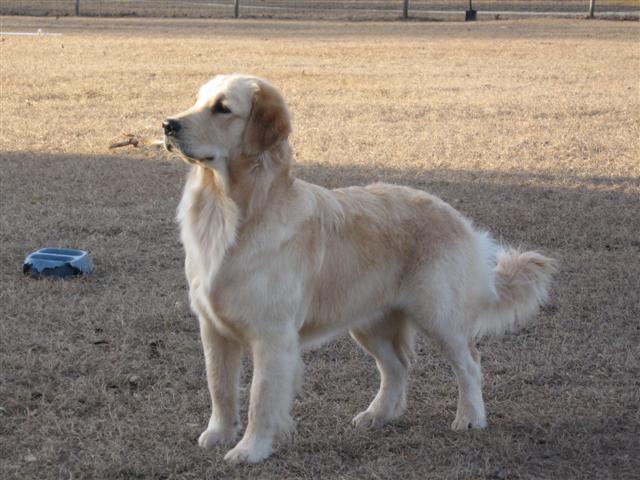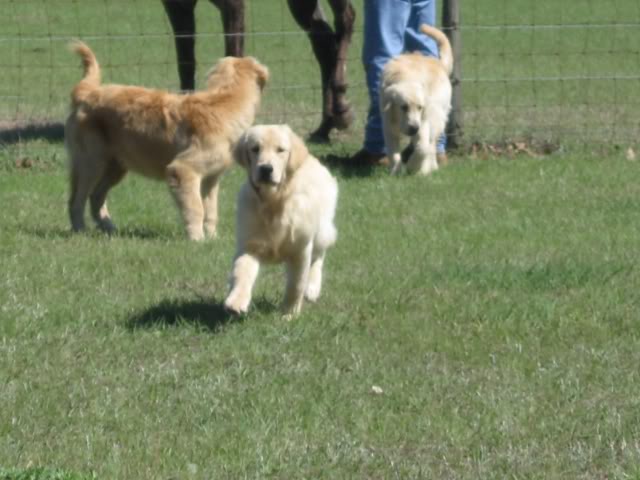 Below Gabby 11 months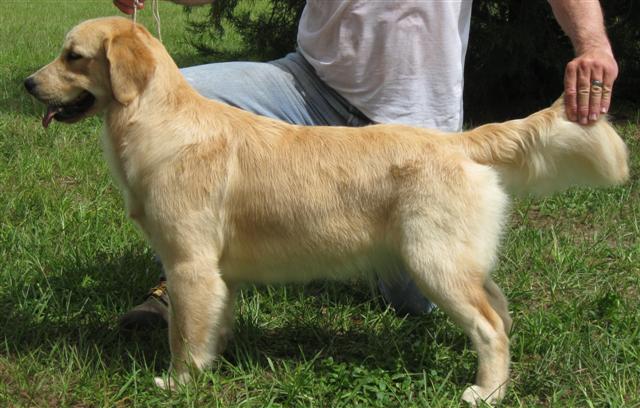 Gabby 11 months Sept 2009
Achievements: First weekend in the ring 6 months old Gabby takes Best
breed Bred By Exhibitor and Bred By Exhibitor Group 3rd...Shown by her loving dad ( Vern Gank) and novice owner handler.
May 16th 2nd weekend in the ring Gabby takes Best Puppy and Puppy
Group 2nd Under Esteemed Structure and Movement judge Patricia Trotter
Thanks to judge Trotter for the Best Puppy and Thanks to Judge Dr. Benard
McGivern Jr for the puppy Group 2nd... what a great birthday I had thanks
to Vern and Gabby ... June 18 2009 3rd weekend in the ring Mid Florida Golden Retriever Club Specialty Sweeps Gabby Wins 1st place in a very nice large class under Judge Ann Greenbank DMV.....we are very proud of Gabby
she is doing great for the few times she has been in the ring....
My sweet little Gabby my Butterfly chaser she is my Pick Puppy out of Sailor and Alicia I expect great things from this Bitch she is a show boat with a Exquisite sidegait and very lite on her feet she floats around the ring and has a look at me attitude with jet black pigment..Gabby has the darkest eyes I have ever seen on a golden Retriever her eyes are Black absolutly beautiful ..... Moderate size bitch , Nice front,Great Sternum and solid strong level topline carries a double coat with slight wave ....Great Temperment and Very Very Pretty.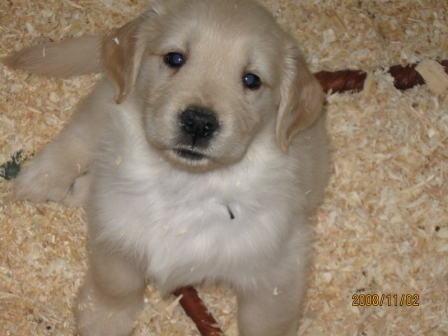 Baby Gabby